Proteome Sciences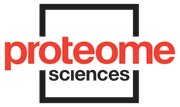 By using LC-MS2, LC-MS3, SysQuant® and TMTcalibratorTM methodologies on samples that originate from tissue to biological fluids, we can detect over 8,000 proteins per sample. With our proprietary bioinformatics software, these can be trimmed down to some tens of proteins that are either up-, or down-regulated in either disease progression or drug treatment.
Using our unique TMTpro isobaric mass tags, we can run up to 15 samples per single experiment thereby allowing relative protein quantification between samples. By using a reference channel, multiple experiments can be performed sequentially, thereby allowing 30 to 100+ samples to be characterized in one project. Sensitivity is equivalent to conventional ELISA in many cases.
In the clinical area, we offer single or multiplexed protein measurements on customer selected proteins either with or without a PTM. Proteins selected can be either known previously, or more often detected above via our Discovery Services. We can measure up to 100 multiplex proteins per sample in a GCLP accredited Targeted Mass Spectrometric assay using clinically relevant samples such as plasma and CSF. Again, sensitivity is equivalent to conventional ELISA in many cases.