DZNE - German Center for Neurodegenerative Diseases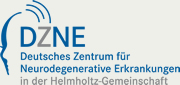 The DZNE pursues an integrated research approach which combines basic and clinical research as well as patient care research. Its strong interdisciplinary networking takes advantage of the expertise present at multiple sites in Bonn, Tübingen, München, Rostock/Greifswald, Göttingen, Magdeburg and Witten as well as the cooperation partner in Dresden. The DZNE is embedded in Universities and University hospitals linking the intramural, long-term research funding provided by the German Federal and State Governments with the research programmes funded by the DFG or other extramural sources. The combination of intramural funding and extramural resources in a strategic cooperation has both advantages and flexibility. It provides the necessary infrastructure for high tech advanced research through the intramural funding thereby supporting the development of centres of excellence within Universities. The strong links with Medical Faculties at the DZNE sites enable the critical mass required to be internationally competitive.
DZNE is funded by the Ministry for Science and Education (BMBF) for 90% and for the remaining 10% from the individual State Governments. The annual budget of DZNE will reach during the first 5 years € 66M/year.